Easter in Western Ukraine
On the Wednesday before Easter, World Orphan Fund president RJ Johnson and another board member, Joe Spadino, flew to Romania and crossed into Ukraine for four days to see things firsthand. What follows are the daily updates of their experience as written by RJ.
April 15 – Day 1 in Ukraine: Chernivtsi, where we are now staying, serves as a base of the humanitarian aid being distributed to shelters and hotspots around the country. At the Red Cross Center, they were assembling packages of food that will last a family of three for 2 weeks. Vans and trucks arrive constantly and somehow everyone knows what they need do, and where the help needs to go. They are all volunteers. One guy walked by and said, "Hey you guys from America? I know those accents! London here." But mostly all are Ukrainian. Later we visited an orphanage, now home to 72 children under the age of six—55 of the children are new to this home, evacuating from eastern Ukraine. They whisper gratefully to our hosts, "You came back." and "Please take me with you." Alex, our "driver" knows everyone and fixes every problem. Before the war he ran a company that builds roads. Now he talks about what they will do to rebuild after. There are no complaints or sad faces. Just a determined, steely and focused determination. They are everything you've seen in the news and so much more. When I asked the orphanage director what she needed but she didn't have. She said: "Peace."


April 16 – Day 2 in Ukraine began with a food and toy run for more than 200 children. Our World Orphan Fund donors paid for about 10 grocery carts stacked to the brim with bulk food and a cart just for toys. The most important food item we bought was sunflower oil which is used to cook many staples here. It is rationed now (only two bottles per person), but Alex of course knew someone who knew someone, and we left with several cases of it.

The next location we visited had been a camp for troubled children before the war. Now it's home to more than 120 orphans and the 10 teachers/caregivers who made it with them. One teacher we met had recently left her children to relieve another teacher who had also left her children. They have agreed to take shifts. There were no "staff," and yet the place had high degree of communal efficiency. Volunteers and refugees pitched in to do everything from cooking to cutting the wood used to cook and heat the buildings (there is no gas available for either). The local community has allowed the orphans into their schools—a massive influx. They attend in shifts with orphans in the morning and the local children in the afternoon. There aren't nearly enough toilets, showers or washing machines for so many children and they have asked for our help to build needed space and purchase equipment. (There is a short video interviewing the kids that will give you a real sense of things).

The second stop was a home that had me whispering "oh-boy" under my breath. The older children looked disconnected and distrustful. But with the toys (and jewelry that Zhanna brought) half an hour later the place was absolute pandemonium. Kids ran around with bubbles, badminton sets, balls and frisbees. Zhanna gave the girls rings, earrings, hair ties and loving attention. Joe helped kids put together styrofoam gliders with battery charged propellors that that dive bombed the staff. Children drew with chalk and blew bubbles, and an adorable 17-year-old used a phone app to ask Joe questions and was shocked to learn that he was not on social media. For 90 minutes they forgot their troubles and were children again. The home asked for our help with basic things – sheets, blankets, clothing, and some special food for Easter (a week later in Ukraine). We gave a volunteer the money to go on a shopping trip for those things.
Our last visit was heart-breaking—a home for children with profound special needs that had their population quadruple from 10 to 43 children. Children with fetal alcohol syndrome, cerebral palsy and several who can be quite aggressive. They have kept it glued together, barely, but they are massively understaffed and stressed out. Honestly, we felt it was a miracle they made it work at all. They lost their nurse and therapist because they couldn't pay them. A few volunteers from the community help, but some call later to say they won't be coming back because they are afraid of some of the children. It was obvious to us this place wasn't going to function for long without some serious help. So, we committed to pay for an additional seven full-time staff, including a therapist and a nurse for at least the next year. The wages here are so low that it will average about $1200 for each person.
We had emotional moments with our team today and some overdue tears from saints who hear impossible stories and yet keep a smile their face and help the children change their focus. As we left the second home with a thousand goodbyes and waves with the children, Zhanna yelled out the window what is said thousands of times every day here. Slava Ukraini! The children answered in one loud shout Heroyam Slava! Glory to Ukraine! Glory to the heroes!


April 16 (evening)

FOX6 News Milwaukee was very kind to do a story on our efforts in Ukraine tonight.

April 17 – Day 3 in Ukraine was simply incredible. It was only a week ago that Zhanna Galeyeva reached out and offered to connect us with orphans and their caregivers in need here.

Yesterday we met with the head of social services for the Chernivtsi region and agreed to form a new NGO here, The World Orphan Fund Ukraine, and they agreed to partner with us to add much needed staff at the special-needs orphanage we visited yesterday.

Our team put together a group of psychologists and therapists and we met over dinner last night to map out an initiative to evaluate and treat orphaned children suffering with post-traumatic stress disorder and developmental delays.

As I write post this it is Easter Sunday. Joe and I are so grateful to have been allowed to work alongside the most incredible people on the planet. It will be hard to leave them as we head back to the United States tomorrow. Slava Ukraini! Heroyam Slava!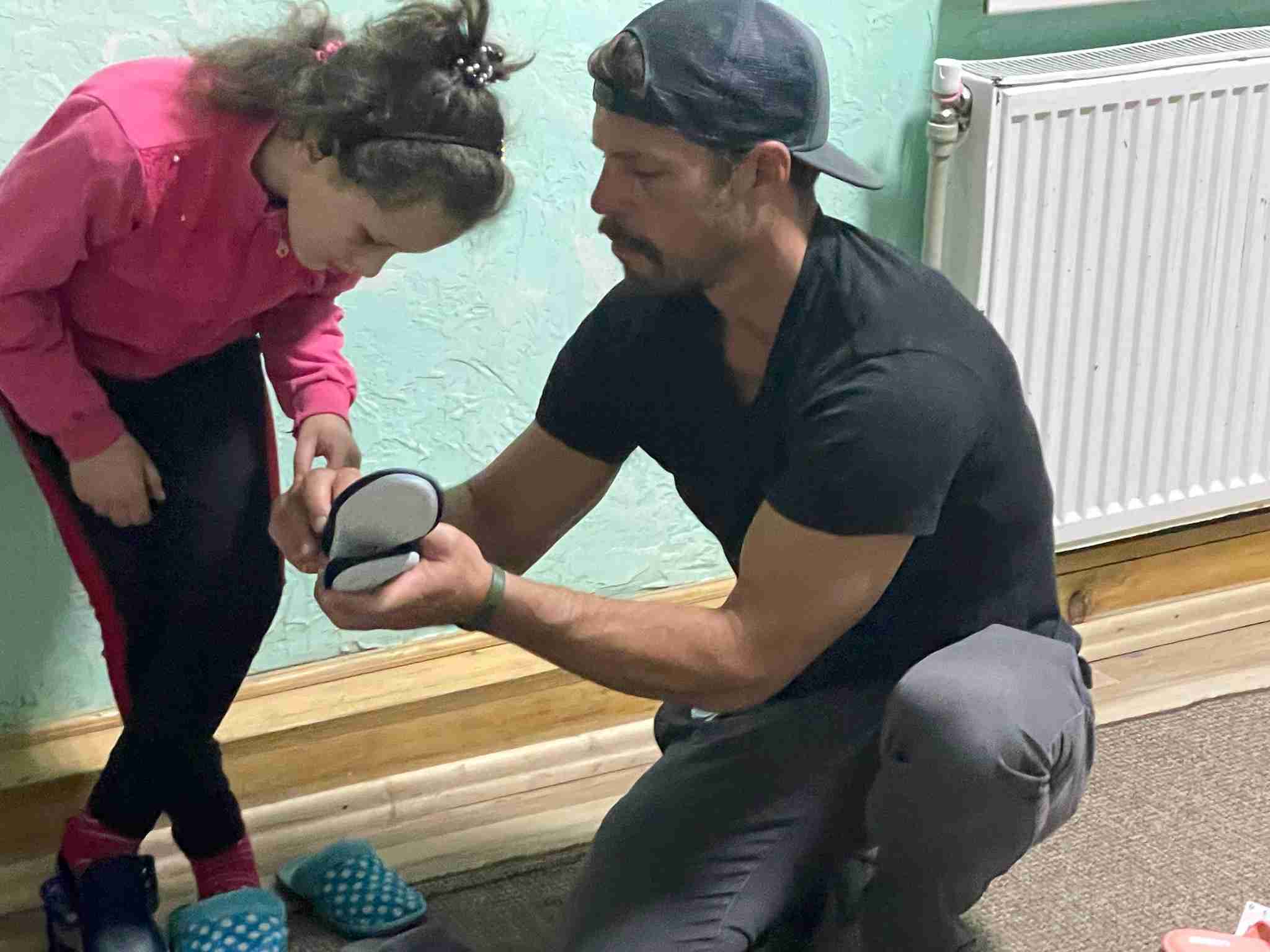 April 18 – On the way home:

We experienced many poignant moments during our time in Ukraine. The symbolism of these two things especially hit me. In the photo below the Ukrainian flag is on the left. On the right is a black and red one. It symbolizes the blood shed in the war, where red mixes with blue to make black and with yellow to make red.
The video is outside my hotel window on Holy Saturday morning, the time between when Jesus was crucified and his rising Sunday morning. The sound of the air raid sirens juxtaposed with the church bells made me think of this dark time of a war against evil, and the Ukrainian people rising victorious and free.
Moving Forward:
While we were there, it was the ongoing support of our donors that allowed us the flexibility to fund immediate needs as we visited.
It is that same steadfast support that allows us to move full speed ahead with additional help. We're recruiting expert psychologists here in the US who will travel to Ukraine on July 31 to train therapists there to help traumatized orphans. There are already 80,000 refugees (25,000 are children) just in Chernivtsi and they have only 6 therapists trained to deal with trauma. I believe this is where we can make the most difference. We will also be helping with caregivers, food, housing, and medical care.

If you would like to support to our effort in Ukraine, you can click here to donate.